The Second International Conference on Women's Work in Music
Bangor University, Wales, 4–6 September 2019
Following the success of our first conference in 2017, the School of Music and Media at Bangor University is pleased to announce that the Second International Conference on Women's Work in Music will take place on Wednesday 4 September to Friday, 6 September 2019. The Conference will celebrate the achievements of women musicians from across the ages to the present day, and will aim to critically explore and discuss the changing contexts of women's work in music on the international stage.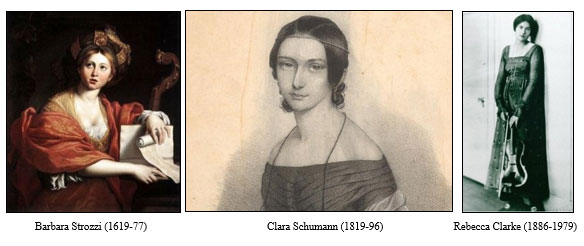 2019 marks the (birth) anniversaries of composers Barbara Strozzi, Clara Schumann, and the 40th anniversary of the death of Rebecca Clarke. What were the different intellectual, practical and institutional challenges they encountered during their lives? And are we familiar enough with music by these composers today?
Although much progress has been made in terms of a better awareness of women musicians in recent years, what are the solutions that need to be adopted to ensure that women (both historic and contemporary) as composers, performers, educators and music professionals in general achieve greater recognition and parity? The Conference will explore and analyse the diverse historical, cultural and political themes of women's work in music, and will provide a platform for participants to present and discuss current developments and concerns as well as practical challenges encountered and solutions adopted.